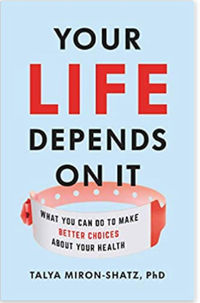 BACK
YOUR LIFE DEPENDS ON IT
What You Can Do to Make Better Choices About Your Health
A top expert on decision-making explains why it's so hard to make good choices - and what you and your doctor can do to make better ones.
In recent years, we have gained unprecedented control over choices about our health. But these choices are hard and often full of psychological traps. As a result, we're liable to misuse medication, fall for pseudoscientific cure-alls, and undergo needless procedures.

In Your Life Depends on It, Talya Miron-Shatz explores the preventable ways we make bad choices about everything from nutrition to medication, from pregnancy to end-of-life care. She reveals how the medical system can set us up for success or failure and maps a model for better doctor-patient relationships.

Full of new insights and actionable guidance, this book is the definitive guide to making good choices when you can't afford to make a bad one.

Talya Miron-Shatz is one of the world's foremost experts on medical decision-making. She has a PhD from the Hebrew University in social experimental psychology; did her post-doctoral fellowship at Princeton with Nobel Laureate Daniel Kahneman; and has taught consumer behavior at Wharton, with an emphasis on health consumerism. Her research has been published in top peer-reviewed journals, including Psychological Science, Health Psychology, Human Reproduction, Psycho-Oncology, Medicine, and Emotion, and as chapters in books published by Oxford University Press, MIT Press, Springer, and Wiley. Dr. Miron-Shatz's research has been featured in The Wall Street Journal, Science Magazine, Science News, The Globe and Mail, Yahoo Finance, The Epoch Times, MarketWatch, Medium, and Newsday, as well as on television, including on Canada AM and various Israeli health and morning shows. She also serves as a consultant in the healthcare sector, with clients including Johnson & Johnson, Pfizer, Novartis, and Samsung, and she maintains a robust speaking schedule at both academic and industry conferences. She lives in Jerusalem.
More like this