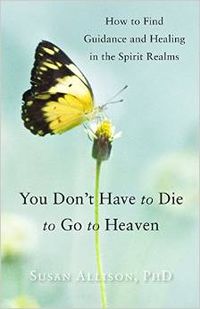 BACK
YOU DON'T HAVE TO DIE TO GO TO HEAVEN
How to Find Guidance and Healing in the Spirit Realms
What if we really didn't have to die to go to heaven? What if we could prove to ourselves through direct experience that spirit worlds exist, that there is no death, that we all are immortal, and that our departed loved ones are fine?
Dr. Susan Allison shows us how in this breakthrough book. She teaches how to go into shamanic trance and spirit travel to other realms: a lower world of animal helpers, a middle realm of spirit allies, and an upper world of gurus, guides, divine teachers, and loved ones--in essence our soul tribe. By doing so, she shows how we can overcome our fear of death and feel comfort in knowing where our departed loved ones have gone. No one needs to wait to have a near-death experience before visiting a level of heaven; everyone can go now, meet with spirit allies, guides, and teachers and transform their lives.

In her practice, lectures and workshops, and this book, the author is all about teaching people to find their own way into the heavenly realms and find their own wisdom there. You Don't Have to Die to Go to Heaven will appeal to anyone who is curious about the afterlife, rebirth, and the wisdom of the ages.

"I had been talking with a colleague about the book Proof of Heaven and I said to my friend, 'You don't have to die to go to heaven; we need to tell people so everyone can go!'" --Susan Allison

Dr. Susan Allison is a therapist with a doctorate in Transpersonal Psychology. She has maintained a private practice for 20 years, and was honored as a Woman of the Year in California by the Santa Cruz Women's Commission for her counseling work with adolescents. She currently works with individuals and groups to bring about healing using traditional therapies as well as hypnosis, process therapy, shamanic journey, and energy medicine.
More like this