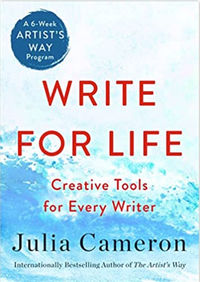 BACK
WRITE FOR LIFE
Creative Tools for Every Writer
WRITE FOR LIFE is a 6-week Artist's Way program with practical lessons on the craft and spiritual practice of writing, encouraging writers to "set in motion a healthy sustainable process" that will guide them as they complete their projects.
Gentle, direct, helpful and inspiring. In this gentle yet firm guide for writers, it's Julia at her best, distilling decades of wisdom and experience in practical lessons on the craft and spiritual practice of writing.

WRITE FOR LIFE delivers a wonderful balance of firm and inspiring advice - honest and authentic, while being accessible in the 6 week program approach. Every writer needs this book - which can join the pantheon of other classic books on writing (from Natalie Goldberg's WRITING DOWN THE BONES, and Anne Lamott's BIRD BY BIRD to Stephen King's ON WRITING.)

Hailed by the New York Times as "The Queen of Change," JULIA CAMERON is credited with starting a movement in 1992 that has brought creativity into the mainstream conversation - in the arts, in business, and in everyday life. She is the best-selling author of more than forty books, fiction and nonfiction; a poet, songwriter, filmmaker and playwright. Commonly referred to as "The Godmother" or "High Priestess" of creativity, her tools are based in practice, not theory, and she considers herself "the floor sample of her own toolkit." The Artist's Way has been translated into forty languages and sold over five million copies to date.
More like this