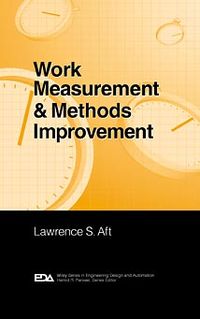 BACK
Work Measurement and Methods Improvement
Practical, up-to-date coverage for a new generation of engineering and management professionals.

Lawrence S. Aft s Productivity, Measurement, and Improvement has long served as a seminal reference for students and professionals in industrial engineering, quality management, and other related fields. Now Work Measurement and Methods Improvement brings his work right up to date with the demands of today s rapidly changing marketplace, where work measurement and methods improvement have a vital role to play in improving quality and enhancing productivity in a wide range of industries.

Accessible and easy to follow, this book presents solid, practical coverage of the key principles and practices of work measurement. It explains the purpose, use, advantages, and limitations of tools and methods for:
* Work analysis including graphical productivity analysis and work methods improvement
* Product measurement from time study and standard data systems to work sampling and labor reporting issues
* Product improvement ergonomics, incentive systems, continuous improvement, process improvement, and more


With straightforward examples, chapter-end summaries, review questions, and practice exercises that emphasize the application of fundamental concepts, Work Measurement and Methods Improvement is an essential reference for current and future professionals who must do the work and manage the process to achieve better quality, higher productivity, and powerhouse performance for their organization.
More like this