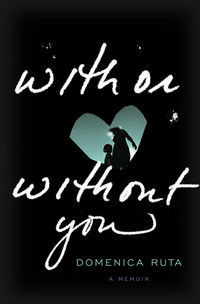 BACK
WITH OR WITHOUT YOU
An unforgettable mother-daughter story for a new generation and the debut of a blazing new lyrical voice. Domenica Ruta offers us the spectacle of a crazy childhood, and in writing about hers, she gives us each insight to our own lives, crazy or not.
Domenica Ruta grew up in a working-class, unforgiving Italian town north of Boston, where in the 17th century women were hanged as witches.
Her mother Kathi, a notorious figure in this hardscrabble place, was a drug addict and sometimes dealer whose life swung between welfare and riches, whose highbrow taste was at odds with her base appetites, and yet she managed, despite the chaos she created, to instill in her daughter a sense that art—via a classic film or a classical education—could transcend this life of undying grudges, self-inflicted misfortune, and the crooked moral code that Kathi and her cohorts lived by.

This is the story of Domenica's unconventional coming of age—a darkly hilarious chronicle of a misfit 90s childhood and the necessary and painful act of breaking away, and of overcoming her own addictions and demons in the process. In a brilliant stylistic feat, Domenica Ruta has written a powerful, inspiring, compulsively readable, and finally redemptive story about loving and leaving. Domenica Ruta was born and raised in Danvers, Massachusetts. She is a graduate of Oberlin College and holds an MFA from the Michener Center for Writers at the University of Texas at Austin. She was a finalist for the Keene Prize for Literature and has been awarded residencies at Yaddo, MacDowell, Blue Mountain Center, Jentel, and Hedgebrook.

Weblink:
http://www.domenicaruta.com


More like this