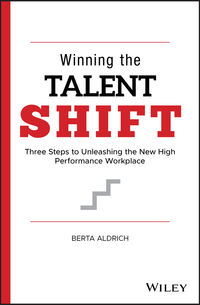 BACK
Winning the Talent Shift
Three Steps to Unleashing the New High Performance Workplace
Winning the Talent Shift: Three Steps to Unleashing the New High Performance Workplace shows readers how to create an environment in which the full potential of a high-performing, diverse workforce is unlocked and empowered. Freed from the current limitations of outdated ideology, HR systems, and modern-day bias, Winning the Talent Shift envisions a working world in which today's invisible barriers are removed and team members, high performers, and true leaders, regardless of gender or ethnicity, are able to work freely together to achieve unprecedented success.
There has been a seismic shift in the workplace over the past 30 years and most companies have failed to keep pace. And those that have tried made minimal progress in leveraging the true impact of this new, diverse talent. Why? Because they've embraced a new opportunity with the same old-world approach—employing a diverse workforce into entrenched cultures that value combativeness, power, and politics.
For companies to create truly high-performing teams that can maximize all of today's available talent, they must integrate their workforces by recognizing current barriers, replacing them, and redesigning their workplace with expectations that allow all individuals—regardless of gender, age, or ethnic background—to work together and capture today's ever changing marketplace. Without this, the very people you are hiring to provide a fresh perspective, innovative ideas, and lead highly engaged teams are being underutilized, and even targeted, costing companies billions of dollars in reduced productivity, turnover, and legal claims each year. There is a better way, and Winning the Talent Shift will show you exactly what it is.
In an engaging and accessible style, author Berta Aldrich candidly demonstrates how executives and corporate leaders can regain a competitive edge in today's workplace and marketplace by identifying and overcoming the obstacles that exist within their organizations. She provides both the critical insights and actionable steps that will transform the workplace and supercharge team performance and excellence. Using empirical research and real-world experiences, companies that can make the talent shift will be poised to win and experience increased productivity, more highly engaged leaders and teams, and higher overall revenue.
Winning the Talent Shift argues in favor of collaborative, integrated methods that leverage the greatest innate talents of men and women, rather than a combative, siloed approach. Aldrich argues that boards, executives, and C-suite leaders, the ones ultimately responsible for their organizational performance and cultures, are on tap to lead the shift, creating an environment where true leaders, high performers, all genders, and people of color work together to create an inspired, new high-performing workplace that can help everyone achieve more than they ever imagined.
More like this