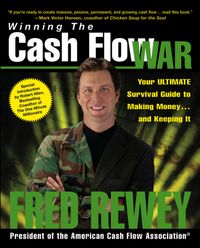 BACK
Winning the Cash Flow War
Your Ultimate Survival Guide to Making Money and Keeping It
Every day, millions of Americans struggle to gain control of their finances and realize true financial freedom. Faced with everything from mounting credit card bills to mortgages and college tuitions, some have given up and filed for bankruptcy, while others have tried to stay afloat by meeting minimum payments. Fighting this type of battle can be daunting, but if you know the rules of the game, you can change your financial life forever.
In Winning the Cash Flow War, nationally renowned cash flow expert Fred Rewey addresses the financial problems that many of us face and offers practical guidance to finding financial freedom in today's challenging world.
This book is divided into four easy-to-follow parts:
Part One—Evaluating Your Troops: Shows you how to take a hard look at your finances and make realistic goals that you can achieve.
Part Two—Understanding the Battlefield: Reveals the rules, tricks, and traps that we should all know about, but certainly have not been taught by the people making money off of us. This section will get you up to speed on the enemy.
Part Three—Mastering the Rules of War: Details the most powerful and important tools in the game, such as the Time Value of Money. This section will help you determine who your allies are, what tools to use, and how to really win the war on cash flow.
Part Four—Building on Your Victory: Explores the numerous ways to self-employment by creating a second source of income, or for some, a whole new way to bring home primary income.
Winning the Cash Flow War provides you with the tools and knowledge needed to take back your financial life. The unique step-by-step strategies outlined within these pages will transform your attitude about finances and help you to shore up your financial position. Discussing everything from effective budgeting to breaking into the lucrative and fulfilling world of self-employment, Winning the Cash Flow War will help you—once and for all—take control of your financial future.
More like this