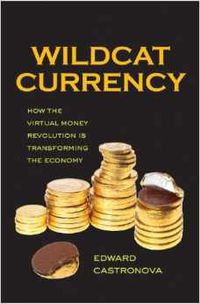 BACK
WILDCAT CURRENCY
The Virtual Transformation of the Economy
WILDCAT CURRENCY will be the first book on the explosive growth of unregulated virtual money and its implications for the global economy.
Over the last 10 years, the concept of a "virtual currency" has grown from a niche factor in the world of online games to a central feature of the world's largest social media network. Almost every social media system deployed today – and there are thousands and thousands of them, occupying the attention of billions of people – makes use of some kind of virtual currency.

A visionary work that offers imminently practical wisdom, WILDCAT CURRENCY will be the Baedeker to the growing world of virtual currencies and their implications. It will speak to the enormous audience of business readers interested in books on digital culture and economics, such as Jane McGonigal's Reality is Broken, Cass Sunstein and Richard Thaler's Nudge, Steven Johnson's Everything Bad is Good for You, and Clay Shirky's Here Comes Everybody.

Professor Castronova is the unquestioned leading researcher on virtual economies and the world of online games. The author of Exodus to the Virtual World (Palgrave Macmillan, 2007; rights sold in Japan and Russia), his work has been reported in major media outlets around the world and he is an oft-quoted source for stories on games, technology, economy, and society. He makes regular appearances in mainstream media (60 Minutes, the New York Times, NPR, the Economist) as well as cutting edge forums (TED, PopTech). His research and game development has been funded by the MacArthur Foundation and The National Science Foundation. In 2008, he was named a Virtual Worlds Pioneer by the Virtual Worlds Management Association. Jane McGonigal, author of the recent New York Times bestseller Reality is Broken, has called his work "brilliant." He has provided consulting for business (McKinsey, Vivendi, Forrester) as well as expert testimony in virtual world legal cases.
Edward Castronova is Professor of Cognitive Science and Telecommunications at Indiana University.
More like this