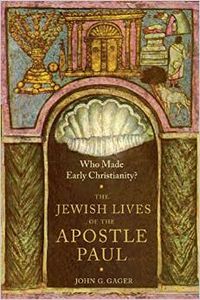 BACK
WHO MADE EARLY CHRISTIANITY?
The Jewish Lives of the Apostle Paul
In this philosophical and theological study, John Gager undermines the Apostle Paul's rejection of Judaism, conversion to Christianity, and founding of Christian anti-Judaism. Through meticulous research and well-supported argument, he finds that the rise of Christianity occurred well after Paul's death and attributes the distortion of the Apostle's views to early and later Christians. Though these elites ascribed a rejection-replacement theology to Paul's legend, Gager shows that the Apostle was considered a loyal Jew by many of his Jesus-believing contemporaries and that later Jewish and Muslim thinkers held the same view. He holds that one of the earliest misinterpretations of Paul was to make him the founder of Christianity, and in recent times numerous Jewish and Christian readers of Paul have moved beyond this understanding.

Gager also finds that Judaism did not fade away after Paul's death but continued to appeal to both Christians and pagans for centuries. Jewish synagogues remained important religious and social institutions throughout the Mediterranean world. Making use of all possible literary and archaeological sources, including Muslim texts, Gager helps recover the long pre-history of a Jewish Paul, obscured by recent, negative portrayals of the Apostle, and recognizes the enduring bond between Jews and Christians that influenced all aspects of a developing Christianity.

John G. Gager is the William H. Danforth Professor of Religion (Emeritus) at Princeton University.
More like this