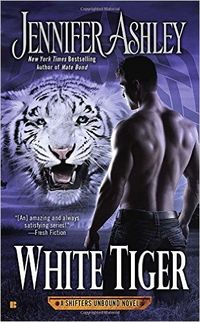 BACK
WHITE TIGER
"With her patented page-singeing sensuality" (Booklist), the New York Times bestselling author of Mate Bond returns to the primal and passionate world of her Shifters Unbound series as a woman is lured into the shadows of a dangerous manhunt...
Wanted and on the run...

For twenty years, Kendrick, a white tiger Shifter, has been the Guardian of un-Collared Shifters who spend their lives living in secret—and in fear of being shunted into Shiftertowns. When Kendrick's group is discovered and forced to flee, Kendrick is more desperate than ever to protect them

His only salvation was in a beautiful stranger.

In a diner in the middle of nowhere, lonely waitress Addison Price has seen a lot of unusual drifters come and go, but none has ever captivated—and intimidated—her like the imposing fugitive who wields a broadsword with incredible skill. But when he risks all to protect her, Addison's fear turns to empathy—and empathy to desire as she learns more about her savior. Soon she's more than willing to help the crushingly sensual white tiger and his cubs in a passionate bid for freedom. Whatever the cost.

Jennifer Ashley is the New York Times and USA Today bestselling author of the Shifters Unbound series, including Bad Wolf, Lion Eyes, and Mate Bond. Winner of a Romance Writers of America RITA Award, Ashley also writes as national bestselling and award-winning author Allyson James.
More like this