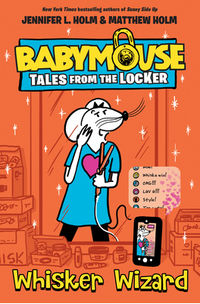 BACK
WHISKER WIZARD
Watch out, Internet! Babymouse becomes a social media influencer in this latest installment!
Babymouse's whiskers are in a twist! Literally. She tries out a new style - called the twist - and suddenly everyone wants to know her whisker secrets. When she posts a tutorial, it's an immediate hit. Companies start sending her boxes of products, and celebrities flock to follow her. Babymouse is officially a whisker influencer! What could possibly go wrong?

WHISKER WIZARD is funny and sweet as Babymouse navigates social media - and what it means to be Internet famous!


JENNIFER L. HOLM and MATTHEW HOLM are the sister-and-brother team behind the Eisner Award-winning Babymouse graphic novel series and the New York Times bestseller Sunny Side Up. Jennifer is the author of many acclaimed novels, including three Newbery Honor winners, Our Only May Amelia, Penny from Heaven, and Turtle in Paradise. Matthew Holm is a graphic designer and freelance writer. They are also the creators of the Squish series. To find out more, visit Babymouse.com and facebook.com/babymousebooks.
More like this