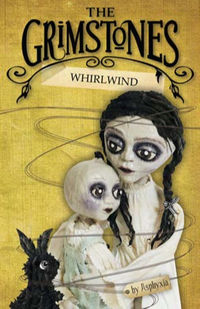 BACK
WHIRLWIND
A gothic fairytale about a whirlwind that refuses to be stomped on, two feisty Angora rabbits, and a disaster of exponential proportions that could be woven into something magnificent.
Hello, I'm Martha Grimstone, and I've inherited my father's gift for music. I can play notes that will bring sunshine, breezes and rain, and send clouds scudding across the sky. But I can't turn back a storm. If only I can convince Grandpa Grimstone that I can be trusted to leave the valley, I know just the place where I can learn more but after my latest catastrophe there seems little hope of that.
Perhaps Tillipilli and Ziphwort will help me.

Told in full colour diary/scrapbook format, this is Martha Grimstone's third magnificent adventure.

Weblink:
www.thegrimstones.com


More like this