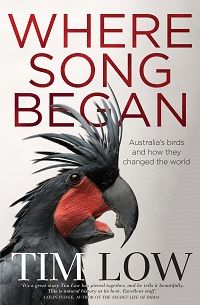 BACK
WHERE SONG BEGAN
Australia's birds and how they changed the world
Where Song Began is an eye-opening book on the unique nature of Australian birds and their role in ecology and global evolution.
Renowned for its unusual mammals, Australia is a land of birds that are just as unusual, just as striking, a result of the continent's tens of millions of years of isolation. Compared with birds elsewhere, ours are more likely to be intelligent, aggressive and loud, to live in complex societies, and to be large and long-lived. They're also ecologically more powerful, exerting more influences on forests than other birds. But unlike the mammals, the birds did not keep to Australia; they spread around the globe. Australia provided the world with its songbirds and parrots, the most intelligent of all bird groups.

Tim Low has a rare gift for illuminating complex ideas in highly readable prose, and making of the whole a dynamic story. Here he brilliantly explains how our birds came to be so extraordinary, including the large role played by the foods they consume (birds, too, are what they eat), and by our climate, soil, fire, and Australia's legacy as a part of Gondwana. The story of its birds, it turns out, is inseparable from the story of Australia itself, and one that continues to unfold, so much having changed in the last decade about what we know of our ancient past.

Tim Low is highly regarded as a biologist and writer. He is the prize-winning author of Feral Future (1999) and The New Nature (2001), both published by Penguin, and Wild Food Plants of Australia. He is currently co-editor of Wildlife Australia magazine, to which he has been a long-term contributor. Tim also works as an environmental consultant, and his reports, books, articles and talks have contributed to ecological thought and environmental policy in Australia and more widely.

Tim's previous book, Feral Future was described by Bill Bryson as 'improbably gripping'. It book sold 15k copies in Australia, where a quote from it was read out in the Senate, and its US edition, published by University of Chicago Press, remains in print. The New Nature sold 12k-plus copies, was one of Who magazine's books of the year, and won the 2002 Westfield Waverley Award (now the 'Nib' Waverley Award) for excellence in literary research.

The new book is a fascinating and ground-breaking look at Australia's birds and how they have impacted the world.

Weblink:
www.timlow.com


More like this