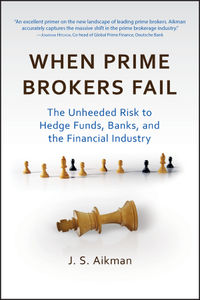 BACK
When Prime Brokers Fail
The Unheeded Risk to Hedge Funds, Banks, and the Financial Industry
Managing New Risk in a New World
"Whether you have been in the business for twenty years or are just interested in how the machine really works, Aikman's book is a must-have."
—Stephen Burns, Director of Electronic Equity Trading, Wellington West Capital Markets
The collapse and sale of Bear Stearns in 2008 marked the beginning of a series of failures of financial institutions in what was to be the worst financial crisis since the Great Depression. Only a few months later came the bankruptcy of Lehman Brothers.
Prime brokerages attached to each of these investment banks were caught in a difficult position as clients—mostly hedge funds and institutional firms—attempted to withdraw and reclaim any assets stored at the failing firms. Many were unable to do so, and while assets were held in abeyance during bankruptcy proceedings, hedge funds struggled to manage increasingly risky and overleveraged bets with less liquid capital.
Before the crisis, both regulators and market participants disregarded the complex and dangerous nature of the relationship between prime brokers (the banks) and their clients (the funds). In When Prime Brokers Fail, J. S. Aikman examines the convoluted structure of this relationship, the main participants, and the impact of the near collapse of prime brokerages on the financial world. He also covers new ways to manage an inherently risky business, the structural adjustments firms will need to make to avoid similar disasters, and the inevitable regulation.
More like this