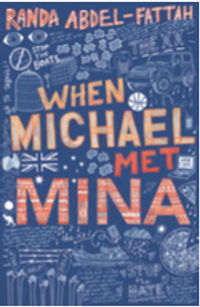 BACK
WHEN MICHAEL MET MINA
When Michael meets Mina, they are at a rally for refugees – standing on opposite sides.
"Before Mina, my life was like a completed jigsaw puzzle but Mina has pushed the puzzle onto the floor. I have to start all over again, figuring out where the pieces go".

Mina fled Afghanistan with her mother via a refugee camp, a leaky boat and a detention centre.

Michael's parents have founded a new political party called Aussie Values. They want to stop the boats.

Mina wants to stop the hate.

When Mina wins a scholarship to Michael's private school, their lives crash together blindingly.

A novel for everyone who wants to fight for love.

A novel for everyone who wants to fight against injustice.

When Michael Met Mina is aimed at older readers. It's an important and very topical book that tackles issues of multiculturalism, racism and bullying. It's a heartbreaking yet uplifting read.

Randa, a former litigation lawyer, is an award winning author of nine books for children and young adults. Her best-selling Does My Head Look Big in This? has sold into 12 territories and is currently optioned for a feature film. She is a regular speaker in schools and at festivals both here and overseas. Randa is completing a PhD exploring everyday multiculturalism and racism in Australia and remains passionate about human rights activism. She lives in Sydney, Australia with her husband and young family.
More like this