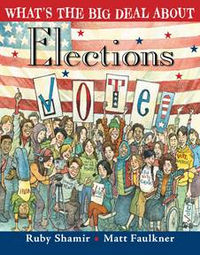 BACK
WHAT'S THE BIG DEAL ABOUT ELECTIONS
From ballots to bonfires, from suffrage to stumping, this kid-friendly picture book filled with fun facts and historical trivia shows why voting is so important and why America gets to call its government a body of, by, and for the people.
Did you know that Election Day is on Tuesday because that was the best day for farmers to vote? Or that George Washington was our only elected president who ran unopposed? Or that Native Americans were only given the right to vote in 1924? It's all true!

We hear a lot about political campaigns on the news, but there's tons to know about elections beyond the politics of each race. Who gets to vote? Who gets to run? What do elected officials do once they're in office--and what do candidates do if they lose? Why do people fight so hard for the right to vote? In this kid-friendly, fact-filled book, young readers will find out how Americans choose their leaders, local and federal, and why elections should matter to them, even if they can't vote (yet)!


Ruby Shamir (www.rubyshamir.com) is a writer and literary researcher based in New York City. She aided in the researching and editorial planning of many high profile non-fiction titles and is the author of What's The Big Deal About First Ladies and What's the Big Deal About Freedom. Ruby's public policy and political experience includes working for nearly four years at the White House, two of which she served in the First Lady's office, and leading Hillary Rodham Clinton's New York Senate office. Ruby holds a Master's in Business Administration from the Zicklin School of Business at Baruch College and a Bachelor of Arts from Bates College where she graduated cum laude. She lives with her husband and three children in the Bronx.
Matt Faulkner (www.mattfaulkner.com) is an award-winning children's book author and illustrator who graduated from the Rhode Island School of Design. With 39 illustrated books to his credit, Matt enjoys working on projects both historical and fantastical in nature (and he concentrates very hard not to get them confused). His most recent graphic novel Gainjin: American Prisoner of War (Disney/Hyperion) won the Asian/PacificALA award for 2015. He is married to author and children's librarian, Kris Remenar. They worked together to create the delightful picture book Groundhog's Dilemma (Charlesbridge). They live with their two kids and two cats in the lower right hand corner of Michigan.

Weblink:
www.rubyshamir.com


More like this