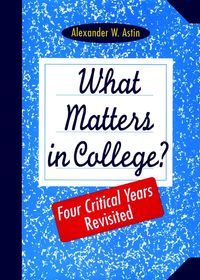 BACK
What Matters in College?
Four Critical Years Revisited
What Matters in College? presents a study of how students change and develop in college and reveals how colleges can enhance that development. The book shows how a range of variables--including academic programs, faculty, student peer groups, and much more--affect students' college experiences. It examines more than 190 environmental characteristics of institutions and details how these factors can have an impact on students' personality and self-concept, patterns of behavior, values and beliefs, academic and cognitive development, career development, and satisfaction with the college environment.
More like this