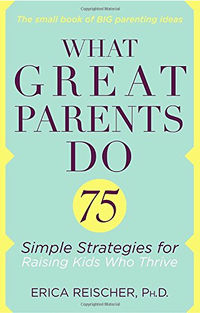 BACK
WHAT GREAT PARENTS DO
75 Simple Strategies for Raising Kids Who Thrive
A golden rule book to parenting best practices, What Great Parents Do concisely presents key strategies to help parents reshape kids' challenging behaviors, create strong family bonds, and guide children toward becoming happy, kind, responsible adults.
What Great Parents Do is an everything-you-need-to-know road map for parenting that you will consult again and again. Psychologist Erica Reischer draws on research in child development and cognitive science to distill the best information about parenting today into bite-sized pieces with real examples, useful tips, and tools and techniques that parents can apply right away. This book will show you:

- How to avoid common parenting missteps.
- How to transform power struggles into cooperation.
- How to change unwanted behavior such as whining and procrastinating, without having to yell or nag.

What Great Parents Do is based on Dr. Reischer's popular parenting workshops that bring together research with real-life examples to create a toolbox for parents that is relatable, actionable, and easy to follow.

ERICA REISCHER, PhD, is a clinical psychologist and parent educator. She holds a doctorate from the University of Chicago in psychology/human development, and is an honors graduate of Princeton University. A former consultant with McKinsey & Company, Dr. Reischer sits on the advisory board for HappyHealthyKids.com and leads popular parenting classes at UCSF Benioff Children's Hospital, Habitot Children's Museum, and the University of California. Her writing about children and families appears in Psychology Today, The New York Times, and The Washington Post.
More like this