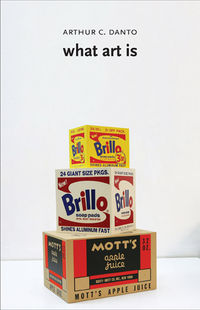 BACK
WHAT ART IS
A short book about the philosophy of art.
What Art Is begins with the 1917 Exhibition of the Society of Independent Artists, at which Marcel Duchamp's Fountain (the undisguised urinal) was rejected on the grounds that it was not art. Danto goes through Enlightenment Art, Fluxus, Pop, Minimalism and Conceptual Art to talk about what makes art art, and whether great art is still possible.

Danto crafts his argument in an accessible manner that engages with both philosophy and art across genres and eras, including such innovations as perspective, chiaroscuro, and physiognomy. Danto concludes with a fascinating discussion of Andy Warhol's famous shipping cartons, which are visually indistinguishable from the everyday objects they represent. Throughout, Danto considers the contributions of philosophers including Descartes, Kant, and Hegel, and artists from Michelangelo and Poussin to Duchamp and Warhol, in this far-reaching examination of the interconnectivity and universality of aesthetic production.

Arthur Danto is an American art critic and professor of philosophy and long time contributor to The Nation. He has written twelve books including ANDY WARHOL, AFTER THE END OF ART and THE TRANSFIGURATION OF THE COMMONPLACE.
More like this