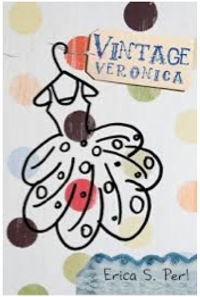 BACK
VINTAGE VERONICA
Vintage Veronica is the story of a shy, sarcastic, vintage clothing obsessed girl, whose summer job at a secondhand clothing store lands her in the middle of a drama involving the older girls who rule the sales floor and the strange, secretive boy who mops the floor.
Veronica Walsh is 15, fashion-minded, fat, and friendless. Her summer job in the Consignment Corner section (Employees Only!) of a vintage clothing store is a dream come true. There Veronica can spend her days separating the one-of-a-kind gem garments from the Dollar-a-Pound duds, without having to deal with people. But when two outrageous yet charismatic salesgirls befriend her and urge her to spy on and follow the mysterious and awkward stock boy Veronica has nicknamed the Nail, Veronica's summer takes a turn for the weird. Suddenly, what began as a prank turns into something else entirely. Which means Veronica may have to come out of hiding and follow something even riskier for the first time: her heart.
Learn more and check out the Vintage Veronica book trailer at www.vintageveronicabook.com.

Erica S. Perl is an established picture book author, making her debut as a young adult novelist with Vintage Veronica. Erica's awards include the Reuben Award and a writing fellowship from the Virginia Center of Creative Arts. She has presented her work to the National Council of Teachers of English and has done author presentations and workshops at schools, libraries and literacy organizations. In addition to writing books, Erica works at First Book, the groundbreaking non-profit organization that has provided over 70 million brand new books to children and teens in need.
More like this