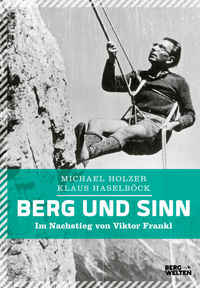 BACK
Viktor Frankl - Mountain and Meaning
Through climbing, Viktor Frankl reinforced his inner strength, which he called »defiance of the mind«. According to Frankl, this helped him to overcome his own fear of heights and more importantly to survive four concentration camps.
In the mountains, the world-famous psychiatrist Viktor Frankl was »just Viktor,« as his wife Elly put it. Not an exceptional alpinist on the side, but a true friend of the mountains, with heart and soul.
Michael Holzer and Klaus Haselböck trace Frankl by climbing the routes named after him on the Rax, Peilstein and in the Dolomites. Biographical references and superimpositions with the developmental area of the moutains show where you can become stronger, grow with challenges, and be closer to yourself.
Elisabeth Lukas, psychotherapist and one of the best-known students of Viktor Frankl, adds context and well-founded logotherapeutic principles to accompany these climbing tours.
An hommage to an exceptional alpinist who provided us with a way to talk about the meaning of climbing.

Weblink:
https://www.bergweltenbuch.com/produkt/berg-und-sinn-im-nachstieg-von-viktor-frankl/english/


More like this