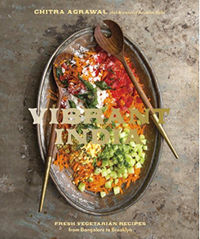 BACK
VIBRANT INDIA
Fresh Vegetarian Recipes from Bangalore to Brooklyn
From the owner of Brooklyn Delhi comes this debut cookbook focused on the historic and vibrant vegetarian recipes of southern India.
American author Chitra Agrawal grew up visiting family and friends around Bangalore, and here she translates the region's beautiful and flavor-packed recipes for the American cook. Focusing on classic dishes based around lentils, rice, and fresh produce, Agrawal helps home cooks learn the fundamentals of Indian cooking, from tempering spices to working with unusual ingredients.
Rounding out the book are delightful sweet drinks, chutneys, and homemade spice blends. Vibrant South India will show readers that Indian food goes beyond heavy curries to include food that is vibrant, bright, and beautiful.

CHITRA AGRAWAL is the founder of the small-batch Indian condiment company Brooklyn Delhi. She hosts a monthly Indian-Chinese pop-up dinner series called Tangra and caters small parties featuring Indian-inspired vegetarian cuisine. She also teaches cooking classes privately and at Brooklyn Brainery, Brooklyn Kitchen, Whole Foods, the Natural Gourmet, and ICE. Her cooking and condiments have been featured in Food & Wine, the New York Times, Saveur, and Real Simple, among others.
More like this