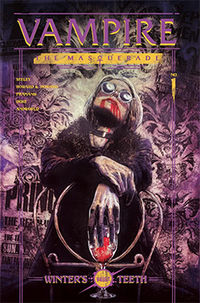 BACK
VAMPIRE:THE MASQUERADE
Volume 1: Winter's Teeth (#1-5)
Based on the internationally bestselling role-playing game of the same name, VAMPIRE: THE MASQUERADE includes two connected stories following immortal vampires called Kindred. The Kindred, for their own safety, keep their existence secret from humans, a practice called the Masquerade.

The first story, "Winter's Teeth", features Cecily Baine, an enforcer for the Twin Cities' elite cabal of Kindred. When Cecily takes a mysterious younger vampire under her wing, she's dragged into an insidious conspiracy. Will she be able to escape with her unlife and protect her aging, Alzheimer's afflicted sister, or will she be yet another pawn sacrificed to the Masquerade?

For fans of the role playing game, each issue includes exclusive material, such as character sheets, that enable readers to play alongside the unfolding comic events. For those unfamiliar with the game, the well-written stories and atmospheric artwork are more than enough to keep readers mesmerized.
More like this