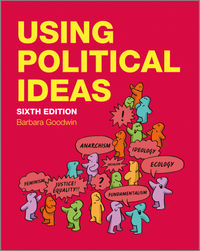 BACK
Using Political Ideas
Using Political Ideas is a unique blend of political philosophy, political theory and history of political thought. It combines a critique of the major ideologies of recent and contemporary society with an analysis of the ideas that form the very stuff of political debate. By exposing the interplay between ideas and ideologies, it shows why political opponents often speak at cross-purposes and why rational agreement is so hard to achieve in politics.
The sixth edition of this well respected and widely known text will be welcomed by those interested in questions such as:
Is equality more important than personal freedom?
Does the majority have the right to dictate to the minority in multicultural society?
Is nationalism a progressive force in the world?
Politics does not stand still, there are always new controversies and ideological conflicts and the climate of discussion changes. The 6th edition of this best-selling book is fully updated and includes a new chapter on authoritarian ideologies to reflect the growing extreme right-wing politics in parts of Europe. This edition also provides a variety of new learning features, a comprehensive glossary, detailed lists of further reading and a list of questions for discussion.
More like this