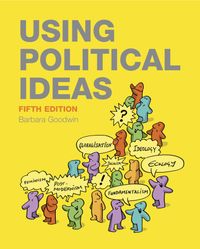 BACK
Using Political Ideas
'An outstandingly useful text . . . I look forward to a fifth edition being made available'
–
Mark Donovan, Senior Lecturer in Politics, University of Cardiff
Using Political Ideas is a unique blend of political philosophy, political theory and history of political thought.  It combines a critique of the major ideologies of recent and contemporary society with an analysis of the ideas that form the very stuff of political debate.  By exposing the interplay between ideas and ideologies, it shows why political opponents often speak at cross-purposes and why rational agreement is so hard to achieve in politics.
The fifth edition of this well respected and widely known text will be welcomed by all those interested in questions such as:
Is equality more important than personal freedom?
Does the majority have the right to dictate to the minority in multicultural society?
Is nationalism a progressive force in the world?
With a new chapter on the political ideologies of the twenty-first century, and greater emphasis on contemporary issues such as multiculturalism, citizenship and identity throughout the book, this new edition is the ideal starting point for students and anyone else who needs an introduction to political thought.
More like this