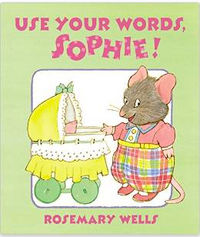 BACK
USE YOUR WORDS, SOPHIE
Use Your Words, Sophie is the third book about the irrepressible two-year old who is wonderful, terrible, and always lovable.
Sophie knows lots of words, but she doesn't always use them.
To tell her parents how she feels about things like naps, she prefers to speak in Hyena or Jellyfish language. "Use your words, Sophie," her parents urge, but Sophie just won't. But there is one person who understands Sophie very well: her new baby sister. And only Sophie knows what the baby would like to be named.

Rosemary Wells is the author of many books for children, including the Max and Ruby books about the popular bunnies who star in their own show on Nick, Jr. In reviewing Sophie's Terrible Twos, Publishers Weekly said: "Wells continues to demonstrate an almost telepathic gift for distilling everyday frustrations and triumphs to their essence." Visit her at www.rosemarywells.com.
More like this