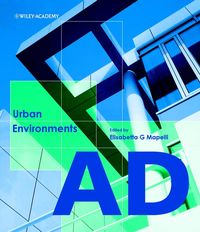 BACK
Urban Environments
The 20th century has been one of great discoveries that have immeasurably influenced our approach to dealing with the everyday. From automobiles to computers and new means of communication, steps have been made in radically transforming the way we live.

Moreover, thanks to the possibilities offered by the use of computers, the development of new methods of design conception is playing with the definiition of space, so that ideas are being generated which go beyond the normal confines of our three-dimensional world.

How does this tanslate to the built environment? Have these transformations in any way affected the design of the home, its basic cell - or will they do so in future? And if so, by what means?

Through extracts from the influential cutting-edge journal Architectural Design, complemented by Elisabetta G Mapelli's introductory essay, this compilation offers an overview of the aesthetic and functional transformations that have been introduced into the concept of 'home' by technoligcal evolution and virtuality - transformations which obviously affect both the client's values and the architect's approach in theb design process. Through these pages it becomes clear that the form of our future environment depends mainly on our continuing development of the definitions of mobility, virtuality and sustainability: that is to say, our relationship with territory, with people, with resources and with space.
More like this