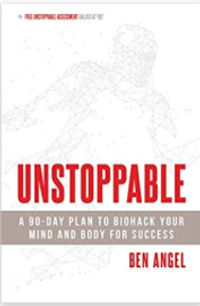 BACK
UNSTOPPABLE
A 90-Day Plan to Biohack Your Mid and Body for Success
Unlock Your Potential. Become Unstoppable.
Unable to overcome debilitating fatigue and depression, bestselling author and personal devel-opment expert Ben Angel set out on a 90-day mission to nd and conquer the root of his rut.
The result of his journey is Unstoppable, a highly revealing book where Ben gives you a look into the world of nootropics, wearable devices, and nutrition and delivers a guide to help you reduce stress, increase focus, improve physical performance, and eliminate your fears.

Combining powerful tools as diverse as "bio-hacking," hypnosis, and neuroscience that readers can apply in their daily life, with access to an accompanying online short-film series based on each chapter, author, and speaker Ben Angel captures the heart, mind, and spirit of readers looking to become unstoppable at every phase of life. Readers will learn how to:

- Master the new frontier, the neuroscience of self-improvement in an age of overwhelm
- Unlock the keys to the kingdom (aka their brain) for peak performance
- Apply practical and easy-to-apply strategies for dealing with their personal Armageddon
- Enhance your mind and use failure as your fuel forward
- Use the "Futurecasting" technique to boost creativity, focus and flow

Ben Angel, author of CLICK, Sleeping Your Way to The Top in Business and Flee 9-5 , is Australia's leading marketing authority. Founder of benangel.co, a site dedicated to providing entrepreneurs advanced online marketing courses and education, Ben provides easy-to-apply and even easier-to-understand strategies for reaching new customers with ease. Ben currently resides in the Tampa Bay area.
More like this