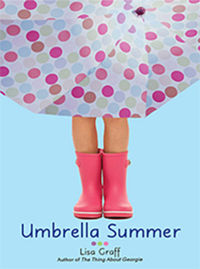 BACK
UMBRELLA SUMMER
While playing hockey, twelve-year-old Jared Richards was hit in the chest with a hockey puck, triggering the rare heart condition that killed him. Since then, his ten-year-old sister Annie has become obsessed with safety wearing her bicycle helmet everywhere she goes, covering herself with Band-Aids before she needs them, and avoiding fun but risky activities like bicycle races and obstacle courses.
She even steals her neighbor's book about illness prevention, from which she learns about such ailments as African Sleeping Sickness, Ebola, and Typhoid Fever. Everyone keeps telling Annie not to worry so much, that she is perfectly healthy, but soon every itch, cough, or discomfort causes Annie to suspect she has contracted one of the many diseases she has read about. Concerned about her daughter's new reading habits, Annie's mother confiscates the book about illnesses, leaving Annie to falsely believe that her mother does not care about her well-being. In fact, since her father has become increasingly absent-minded, it seems to Annie that neither of her parents cares about her anymore.

And to make matters worse, Jared's birthday is approaching and Annie has no idea how to celebrate it this year especially since her parents refuse to talk about Jared. When Annie fails to show sympathy for the death of her best friend Rebecca's pet, Rebecca ends their friendship, leaving Annie feeling even more confused and alone. Luckily, Annie's new neighbor Mrs. Finch, a kind and clever old woman whose husband recently died, knows something about life's hardships. Finally, Annie has found an adult she can talk to about Jared. Mrs. Finch helps Annie realize that all of her worrying has prevented her from not only experiencing life's joys, but also from remembering the good things about her brother.

Annie's worrying has been the umbrella she carries around with her, rain or shine, but with the help of a classic children's book, a very special collection of healing tea, and a batch of chocolate chip cookies, Mrs. Finch will help Annie find a way to close her umbrella of sadness and step back into the sunshine. And Annie will do the same for Mrs. Finch.

Lisa Graff is the author of The Life and Crimes of Bernetta Wallflowerand The Thing About Georgie.

Weblink:
www.lisagraff.com


More like this