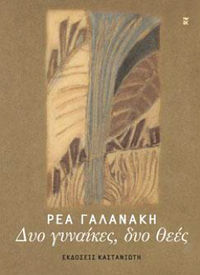 BACK
Two Women, Two Goddesses
With the sculpture "Athena the young shepherdess" by the famous Greek sculptor Yannoulis Halepas as its starting point, the first novella focuses on the twenty-eight years that Halepas lived on the island of Tinos, after spending time in the Corfu public mental institution and before he returned to Athens, acclaimed for the second time. During this period, which his mother's death split in two, Halepas was also a shepherd. Why was his relationship with his mother so stormy, how did people and times cross paths inside him, and why was the pariah sculptor "resurrected" during that time are some of the enigmas that the story touches upon.
Ariadne's sexual passion for Theseus, the stranger and enemy to Minoan Knossos, is recounted in the second novella by the young woman herself. Her narrative differs from the legend handed down to us by Greek antiquity. Not only because it is a woman who speaks, but also because from the love-struck maiden emerges the power of a princess, a priestess and a goddess. As if things had to come – inevitably and ritualistically – full circle, even in a world that was dying out as the new one emerged.
In the postface, the author quotes her experiential relationship with the above-mentioned novels, which, as they ought to, differ between themselves in many ways.
We know about Ariadne's myth. But what is her personal version ? Ariadne is reversing her myth by retelling it her own way.
More like this