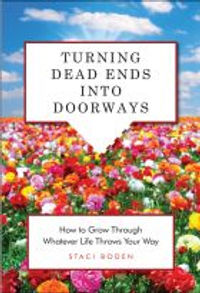 BACK
TURNING DEAD ENDS INTO DOORWAYS
How to Grow Through Whatever Life Throws Your Way
Turning Dead Ends Into Doorways: How to Grow Through Whatever Life Throws Your Way introduces eight teachers to help us navigate the unknown in daily life—fear, awareness, choice, body, intuition, energy, intention and surrender.
Whether we like it or not, control is an illusion! God and the universe laugh when we make plans. We can try hard to materialize something—a new job, the perfect body, trust, our dream partner, inner peace—without success. And sometimes life deals unexpected blows: illness, divorce, death.

With compassionate honesty and a practical sense of humor, healing practitioner Staci Boden shows her readers how to navigate change without clinging to false notions that if they just do this or think that they can dertermine what happens next. How to let go of false expectations and still make excellent choices. How to grow and heal no matter what life throws their way. ? Staci Boden is a San Francisco-based writer, healing practitioner, and energy worker. Through her company, Dancing-Tree Consulting, Staci works with individuals and groups to help transform decisions, projects, and relationships. She sees private clients as well as leads personal and spiritual development workshops in energy work, sacred dance, breathwork, and guided visualization to help people learn how to navigate life.

Weblink:
redwheelweiser.com/detail.html?id=9781573244916


More like this