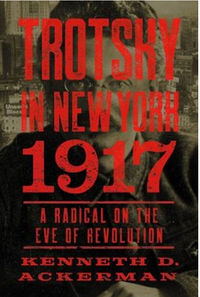 BACK
TROTSKY IN NEW YORK, 1917
A Radical on the Eve of Revolution
The first book to tackle Leon Trotsky's sojourn in New York City and the implications it had for world history.
Lev Davidovich Trotsky burst onto the world stage in November 1917 as co-leader of a Marxist Revolution seizing power in Russia. It made him one of the most recognized personalities of the 20th Century, a global icon of radical change. Yet just months earlier, this same Lev Trotsky was a nobody, a refugee expelled from Europe, writing obscure pamphlets and speeches, barely noticed outside a small circle of fellow travelers. Where had he come from to topple Russia and change the world? Where else but New York City! During his ten weeks in New York, Trotsky immersed himself in the local scene and his clashes with leading New York socialists over the question of US entry into WWI would reshape the American left for the next fifty years.

Kenneth D. Ackerman is author of Boss Tweed: The Corrupt Pol Who Conceived the Soul of the Modern New York (Carroll & Graf 2006), Dark Horse: The Surprise Election and Political Murder of President James A Garfield (Carrol & Graf 2004) and Young J. Edgar: Hoover and the Red Scare, 1919-1920 (DaCapo 2008). He served for more than 25 years in senior posts on Capitol Hill and in the Executive Branch, including as counsel to two U.S. Senate committees and as administrator of the Department of Agriculture's Risk Management Agency during the Clinton-Gore administration.
More like this