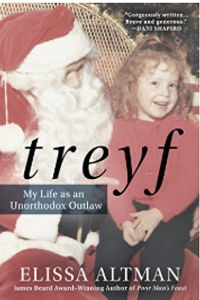 BACK
TREYF
My Life as an Unothodox Outlaw
In this kaleidoscopic memoir, Elissa Altman tells a story of tradition, expectations, religion, and rule-breaking that defined her childhood, from the dinner table to the synagogue to the bedrooms of her apartment building.
Treyf: According to Leviticus, unkosher and prohibited, like lobster, shrimp, pork, fish without scales, the mixing of meat and dairy. Also, imperfect, intolerable, offensive, undesirable, unclean, improper, broken, forbidden, illicit.

Fans of Augusten Burroughs and Jo Ann Beard will enjoy this kaleidoscopic, universal memoir in which Elissa Altman explores the tradition, religion, family expectations, and the forbidden that were the fixed points in her Queens, New York, childhood. Every part of Altman's youth was laced with contradiction and hope, betrayal and the yearning for acceptance: synagogue on Saturday and Chinese pork ribs on Sunday; bat mitzvahs followed by shrimp-in-lobster-sauce luncheons; her old-country grandparents, whose kindness and love were tied to unspoken rage, and her bell-bottomed neighbors, whose adoring affection hid dark secrets.

While the suburban promise of The Brady Bunch blared on television, Altman searched for peace and meaning in a world teeming with faith, violence, sex, and paradox. Spanning from 1940s wartime Brooklyn to 1970s Queens to present-day rural New England, Treyf captures the collision of youthful cravings and grown-up identities. It is a vivid tale of what it means to come to yourself both in spite and in honor to your past.


Elissa Altman is the author of the critically acclaimed memoir Poor Man's Feast and the James Beard Award–winning blog of the same name. She writes the Washington Post column, "Feeding My Mother," and her work has appeared everywhere from OnBeing.org and O, The Oprah Magazine to Tin House, the New York Times and the TEDx stage, and has been anthologized for five consecutive years in Best Food Writing.
More like this