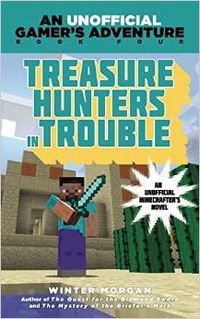 BACK
TREASURE HUNTERS IN TROUBLE
In this fourth installment of the Minecraft Gamer's Adventure series, Steve receives a distress call from his friends Max, Lucy, and Henry. They have found an abundance of treasure in a temple, but they can't get out! He immediately sets off for the desert to help his friends. Once Steve gets to them, they will all be rewarded with a supply of emeralds, gold ingots, and many other rare treasures.
But saving his friends and helping them extract the treasure isn't as easy as he thinks it will be. He enlists the aid of a neighbor to help him on his quest. With his friend Kyra in tow, the two brave a trip through the nether, get stuck at sea, face hostile chicken jockeys, and become trapped in a cave filled with spiders. They have to find their way to their treasure hunter friends while battling hostile mobs in this tale about trickery and treasuring friendship.

Will Steve be able to brave the nether and rescue his friends? And will anyone get to go home with chests full of treasure? Find out in this thrilling fourth installment of the Minecraft Gamer's Adventure series!

Winter Morgan is not a real person. It's the pen name for an author of numerous kids' books and books for adults. This author has also published countless articles in magazines and newspapers your parents read. As with a user name in Minecraft and other online games, it's wise to use a pseudonym, and it's also cool to do (if you can) when writing books. The author does have a Minecraft-addicted son, who inspired the story, and a daughter who is very accommodating since her little brother monopolizes the computer creating mods and mining for diamonds. She lives in Brooklyn, New York.
More like this