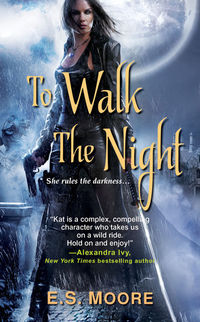 BACK
TO WALK THE NIGHT
The Kat Redding Series follows the dark and gritty journey of the titular Kat Redding--a vampire who hunts other vampires. From one-on-one battles in city streets, to facing down demons and angels, the series starts by staking vampires and then raises the stakes. A perfect fit for fans of Buffy and Supernatural.

TO WALK THE NIGHT:
Kat Redding is the very thing she hunts: a vampire, thirsting for blood, capable of killing any creature unlucky enough to get in her path. The difference is, Kat kills her own kind in order to protect human Purebloods. She's good at what she does. Good enough to earn the nickname Lady Death--and the enmity of every bloodthirsty being around. But now a vampire Count is intent on merging his House with a werewolf cult to create a force of terrifying power.

Kat can't allow that to happen. Even if it means taking on a den of weres and a vampire more ruthless than any she's encountered before. She has the weapons, the skill, and a few allies. But that may not be enough to eliminate the Count before her own dark nature rises to the surface--and costs her whatever is left of her humanity. . .

E.S. Moore is also the author of the popular twelve-book (and growing) Bookshop Café Mystery series and the two-book (and growing) Furever Pets Mystery series, written under the pen name Alex Erickson.
More like this