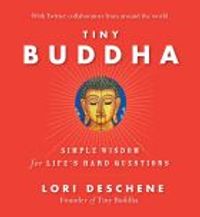 BACK
TINY BUDDHA
Simple Wisdom for Life's Hard Questions
Why are we here? What is the meaning of life? How can we feel happy and free? The real-life, real-time, jargon-free answers to these and other life questions are gathered in TINY BUDDHA: Simple Wisdom for Life's Hard Questions.
In the bestselling tradition of Grethen Rubin's The Happiness Project, TINY BUDDHA began as a small but important endeavor by the author and has ended up destined for notoriety in print. TINY BUDDHA began as a quote-a-day tweet by writer Lori Deschene. Her daily wisdom posts @tinybuddha about mindfulness, non-attachment, and happiness became so popular that she now has more than 200,000 twitter followers who share quotes and stories about inspiration in their daily lives.

Deschene asked her twitter followers to contribute their thoughts and perspectives on the difficult questions that influence how we live our everyday lives: thoughts about the meaning of life, pain, happiness, fate, and more. TINY BUDDHA is a combination of the amazing responses that she received along with her own insightful essays, and quotes from wise teachers around the world and throughout time. Deschene explores how these issues have played out in her own life. The result is a refreshingly accessible guide that helps readers discover the endless possibilities of a life lived mindfully in the present, and connected to others. Lori Deschene is the founder of tinybuddha.com, a community of thousands of people interested in sharing wisdom for a happier life. She is a regular speaker at Wisdom2.0 and a freelance writer whose work has appeared in national magazines.
More like this