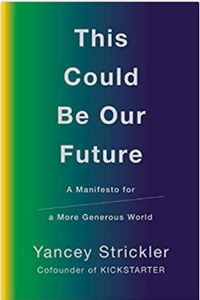 BACK
THIS COULD BE OUR FUTURE
A Manifesto for a More Generous World
Using pop culture references, his hands-on experience with Kickstarter, and the latest research from economists, historians, and philosophers, Yancey Strickler explores the idea that we need to discover and grow new forms of rational value in order to reset our world and possibly - hopefully! - find a new system, a way forward, that is socioeconomically and ecologically more inclusive than what we have now.
Western society is trapped by three assumptions: 1) That the point of life is to maximize your self-interest and wealth, 2) That we're individuals trapped in an adversarial world, and 3) That this is natural and inevitable.
These ideas separate us, keep us powerless, and limit our imagination for the future. We see them as truth. They're not. They're a point of view that previous generations accepted. It's time we replace them with something new.

THIS COULD BE OUR FUTURE is about how we got here, and how we change course. While the pursuit of wealth has produced innovation and prosperity, it also established an implicit belief that the right choice in every decision is whichever option makes the most money. This belief in financial maximization has produced dire consequences: environmental collapse, corruption, inequality, and a growing dissatisfaction around the world. The answer isn't to get rid of money; it's to expand our concept of value. By assigning rational value to other values besides money--things like community, purpose, and sustainability--we can refocus our energies to build a society that's generous, fair, and ready for the future. By recalibrating our definition of value, a world of scarcity can become a world of abundance.

Hopeful but firmly grounded, full of concrete solutions and bursting with creativity, THIS COULD BE OUR FUTURE brilliantly dissects the world we live in and shows us a road map to the world we are capable of making.

Yancey Strickler is the cofounder and former CEO of Kickstarter. He has appeared on NBC, CNN, MSNBC, NPR Marketplace, Planet Money, KCRW, PBS, and the BBC. He's been profiled in Wired, Financial Times, The New York Times, New York Magazine, Forbes, and Vox and has given keynotes at SXSW, the Sundance Film Festival, the Museum of Modern Art, Atlantic Ideas Festival, Techcrunch Disrupt, Web Summit, the Walker Art Center, 92nd Street Y, and more. He was one of Fortune's 40 Under 40, on Vanity Fair's New Establishment list, and a World Economic Forum Young Global Leader. The London Spectator called him "one of the least obnoxious tech evangelists ever."

Weblink:
www.ystrickler.com


More like this