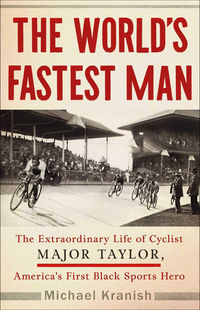 BACK
THE WORLD'S FASTEST MAN
The Extraordinary Life of Major Taylor, America's First Black Sports Hero
In the thrilling tradition of The Boys in the Boat, this is the remarkable story of Major Taylor (1878-1932), the black man who broke
racial barriers by becoming the fastest and most famous bicyclist in the world at the height of the Jim Crow era.
In the 1890s, the nation's promise of equality had failed spectacularly. While slavery had ended with the Civil War, the Jim Crow laws still separated blacks from whites, and the excesses of the Gilded Age created an elite upper class. Amidst this world arrived Major Taylor, a young black man who wanted to compete in the nation's most popular and mostly white man's sport, cycling. Birdie Munger, a white cyclist who once was the world's fastest man, declared that he could turn the young black athlete into a champion.

Twelve years before boxer Jack Johnson and fifty years before baseball player Jackie Robinson, Taylor faced racism at nearly every turn - especially by whites who feared he would disprove their stereotypes of blacks. In The World's Fastest Man, years in the writing, investigative journalist Michael Kranish reveals new information about Major Taylor based on a rare interview with his daughter and other never-before-uncovered details from Taylor's life. Kranish shows how Taylor indeed became a world champion, traveled the world, was the toast of Paris, and was one of the most chronicled black men of his day.

From a moment in time just before the arrival of the automobile when bicycles were king, the populace was booming with immigrants, and enormous societal changes were about to take place, The World's Fastest Man shines a light on a dramatic moment in American history - the gateway to the twentieth century.


Michael Kranish is an investigative political reporter for The Washington Post. He is the coauthor of the New York Times bestseller Trump Revealed, John F. Kerry, The Real Romney, and the author of The World's Fastest Man and Flight from Monticello: Thomas Jefferson at War. He was the recipient of the Society of Professional Journalists Award for Washington Correspondence in 2016.

Weblink:
michaelkranish.com


More like this