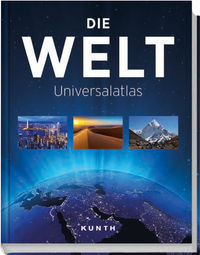 BACK
The World – Universal Atlas
An atlas for the whole family!
+ A clear atlas of our entire Earth + Amazing photographs of the records in Nature + Comprehensive index
Harmonious map colours, sensible map sections and easy-to-read typography
ensure that the Universal Atlas is a clear and modern work of cartography.
Up-to-date physical maps show all the continents and countries of the world.
The atlas section is complemented by an encyclopaedia of countries, comprising
all the important dates and facts for each country. A special chapter impressively
highlights the natural »records« of our Earth, the highest mountains, the most
gigantic waterfalls, the hottest deserts and many other geographical superlatives.
More like this