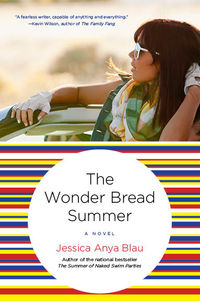 BACK
THE WONDER BREAD SUMMER
A darkly hilarious, heartbreaking coming-of-age novel.
It's 1983 in Berkeley, California. Twenty-year-old Allie Dodgson is a straitlaced college student working part-time at a dress shop to make ends meet. But when the shop turns out to be a front for a dangerous drug-dealing business, Allie finds herself on the lam, speeding toward Los Angeles in her best friend's Prelude with a Wonder Bread bag full of cocaine riding shotgun and a hit man named Vice Versa on her tail.

On the lam and out of her depth, Allie finds both assistance and trouble from Roger, a paraplegic porn movie producer; Mike, a foxy surfer; Rosie, a sentimental hit-man; and Billy Idol, the rock star. But the only people Allie truly trusts to pull her out of this jam are the two she can't seem to locate: her mother, who ran off to be the tambourine girl in a band when Allie was 8; and her father, whose phone is suddenly disconnected and whose restaurant is mysteriously closed.

You can't find a more thrilling summer read!

Weblink:
http://www.harpercollins.com/books/Wonder-Bread-Summer-Jessica-Anya-Blau/?isbn=9780062199553?AA=index_RecentBooks_33324


More like this