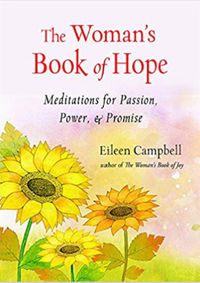 BACK
THE WOMAN'S BOOK OF HOPE
Meditations for Passion, Power, and Promise
This is a practical, friendly, and helpful book that will appeal to anyone looking for a little pick-me-up, a little help in getting through the week.
We live in chaotic times. Nearly every country in the Western world is confronted with a variety of daunting problems ranging from the rise of neo-Fascist parties, economic stagnation, falling currencies, and a widespread sense of disenfranchisement. There is a sense that we no longer control our lives that circumstances have careened out of control leaving us adrift in a sea of change. Hope seems to be in short supply, and fear at times threatens to overwhelm us as we try to stay afloat in our sea of troubles.

Campbell writes: "We need vision and conviction that the future can be better. With motivation we can act with bravery and daring. Determinations help drive through our vision but is balanced by patience and letting things unfold without trying to force them. Instead of being afraid of the future, we can cultivate the habit of love (the very opposite of fear). . . . With hope the world becomes transformed."

Throughout the book Campbell includes stories of those who have triumphed over adversity and have been sustained by hope, such as Anne Frank, Grace Lee Boggs, Ann Davison, Marie Curie, Artemisia Gentileschi, Hildegard of Bingen, and Xiaolu Guo. She also includes the experiences of those who have been abused or kidnappedMaya Angelou, Oprah Winfrey, and Natascha Kampusch, for exampleand the stories of refugees who have made new lives for themselves, escaping from Uganda, Iran, and Syria.

Eileen Campbell is the prestigious author of several books, including The Woman's Book of Joy. She was an alternative/New Age publisher for over 30 years and worked in various capacities for major publishers including Routledge, Random House, Penguin, Rodale, Piatkus Books, and Harper Collins. She was also a writer/presenter for BBC Radio's "Something Understood" and "Pause for Thought" in the 1990s.

Weblink:
www.eileencampbellbooks


More like this