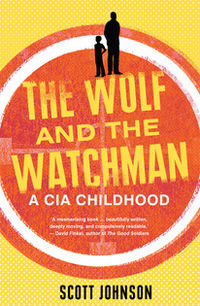 BACK
THE WOLF AND THE WATCHMAN
A CIA Childhood
Growing up, Scott Johnson always suspected that his dad was different. Only as a teenager did he discover the truth: his father was a spy, one of the CIA's most trusted officers. And, as Scott came to realize, his father had been living a double life for so long that it was often hard to distinguish the lies from the truth.
When an adult Scott embarked on a career as a war correspondent, he found himself returning to many of the troubled countries of his youth. In the dusty streets of Pakistan and Afghanistan, amid the cold urbanity of Yugoslavia, and down the mysterious alleys of Mexico City, he came face to face with his father's murky past – and his own complicity in it.

The Wolf and the Watchman is a provocative, meditative reckoning on truth, deception, and manipulation, and the fidelities we owe to ourselves and to our families. It is also an intensely personal story of a bond between father and son that endured in the shadow of one of the world's most secretive and unforgiving institutions.

Scott Johnson has spent much of the last decade in the Middle East, covering the wars in Afghanistan and Iraq, and in Africa, reporting on politics and current affairs. He has been the chief of Newsweek's Mexico, Baghdad, and Africa bureaus, as well as a special correspondent from Paris. He was part of the team that contributed to Newsweek's 2003 National Magazine Award for reportage of the Iraq war, and in 2004 the Overseas Press Club honoured his reports on Latin America. He has appeared in various American media, including on CNN, MSNBC, and National Public Radio, and his work has been featured in publications such as Granta, Guernica, and National Geographic Explorer. He lives in California with his wife and cat, Dude.

Weblink:
http://thewolfandthewatchman.com/


More like this