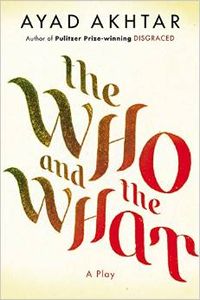 BACK
THE WHO AND THE WHAT
THE WHO AND THE WHAT explores the conflict that erupts within a Muslim family in Atlanta when an independent-minded daughter writes a provocative novel that offends her more conservative father and sister.
Zarina has a bone to pick with the place of women in her Muslim faith, and she's been writing a book about the Prophet Muhammad that aims to set the record straight. When her traditional father and sister discover the manuscript, it threatens to tear her family apart. With humor and ferocity, Akhtar's incisive new drama about love, art, and religion examines the chasm between our traditions and our contemporary lives.

Ayad Akhtar is an American-born, first generation Pakistani-American from Milwaukee, Wisconsin. A Pulitzer prize-winning playwright, he holds degrees in Theater from Brown University and in Directing from the Graduate Film Program at Columbia University, where he won multiple awards for his work. He is the author of a novel, American Dervish, and numerous screenplays and was star and co-writer of The War Within, which premiered at the 2005 Toronto Film Festival and was nominated for an Independent Spirit Award for Best Screenplay and an International Press Academy Satellite Award for Best Picture - Drama.
More like this