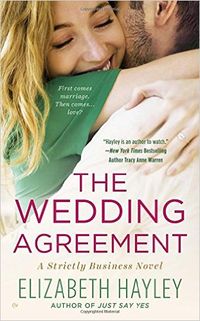 BACK
THE WEDDING AGREEMENT
The author of Just Say Yes is back with another sweet and sultry Strictly Business novel about working hard and falling harder into an unexpected romance...
Love doesn't always follow the same schedule...

Alex Walker doesn't need a woman in his life. In fact, he doesn't have time for one. Between his career in the FBI and the demands of being good father, romance is an unwanted distraction.

Likewise, Cassidy Mullen is fine on her own. The independent career woman has never had a husband in her plans—forget about kids. But when her friend Alex gets into a bind with his ex over their daughter, Cass finds herself suddenly playing the part of Alex's stable, child-loving fiancée—and liking it a lot more than she'd care to admit.

Soon Alex and Cass can't deny the real passion growing between them. But as fake affection turns into real love, Cass and Alex will have to make a choice: say "I Do" to their feelings or give up on happily-ever-after for good...

Elizabeth Hayley is the penname for "Elizabeth" and "Hayley," two friends who have been self-publishing romance novels since 2013. They are best known for their Pieces series, including Perfectly Ever After, Picking Up the Pieces, and Pieces of Perfect, and their Strictly Business novels, including Just Say Yes and The Best Medicine. They both live with their husbands and young children in Pennsylvania.
More like this