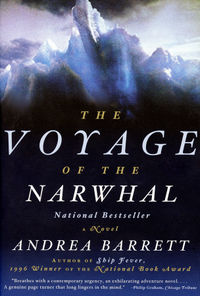 BACK
THE VOYAGE OF THE NARWHAL
This compelling novel tells the story of a fateful expedition. "Breathes with a contemporary urgency, an exhilarating adventure novel. A genuine page-turner that long lingers in the mind." (Chicago Tribune)
Capturing a crucial moment in the history of exploration?the mid-nineteenth century romance with the Arctic?Andrea Barrett's compelling novel tells the story of a fateful expedition. Through the eyes of the ship's scholar-naturalist, Erasmus Darwin Wells, we encounter the Narwhal's crew, its commander, and the far-north culture of the Esquimaux. In counterpoint, we meet the women left behind in Philadelphia, explorers only in imagination. Together, those who travel and those who stay weave a web of myth and mystery, finally discovering what they had not sought, the secrets of their own hearts.

Andrea Barrett was born in Boston in 1954, grew up on Cape Cod, and later attended Union College, where she graduated with a degree in biology. She began writing fiction seriously in her thirties and published her first novel, Lucid Stars, in 1988. In 1996, she received the National Book Award for her fifth book, Ship Fever, a collection of stories.Barrett is particularly well known as a writer of historical fiction. Her work reflects her lifelong interest in science, and women in science. Many of her characters are scientists, often 19th-century biologists.

Barrett received a MacArthur Fellowship in 2001. Her short story collection Servants of the Map was a finalist for the 2003 Pulitzer Prize for Fiction.

As in the work of William Faulkner, some of Barrett's characters have appeared in more than one story or novel. In an appendix to her recent novel, The Air We Breathe (2007), Barrett supplied a family tree, making clear the characters' relationships that began in Ship Fever. Although each novel and story is self-contained, the reader comprehends an added dimension when familiar with the characters' previous histories.

Barrett teaches writing at Williams College and lives in North Adams, Massachusetts, with her husband, photographer Barry Goldstein.
More like this