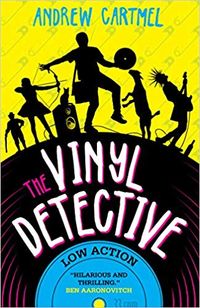 BACK
THE VINYL DETECTIVE
Low Action
The Vinyl Detective goes punk in his fifth hilarious adventure.

Semi-retired god of rock guitar and local poseur Erik Make Loud has got himself a new girlfriend. Helene Hilditch - formerly known as Howlin' Hellbitch - of all-girl punk outfit Blue Tits is a mean guitarist, someone is trying to kill her.

With a rare pressing of the Blue Tits' first album to find, the Vinyl Detective and Nevada are called in to help. But this time the question is who isn't a suspect. With a long list of enemies, the people who could want Helene dead includes her ex-bandmates, their former producer turned record label mogul, the TV presenter that Helene got fired - even their old roadie could be in on it. As the killer's attempts on Helene's life get more and more ambitious the Vinyl Detective and Nevada are in a race against time to find the killer, before it's too late.

Andrew Cartmel is a novelist, playwright and screenwriter. His work for BBC television includes a legendary three year stint as the Script Editor on DOCTOR WHO. He has also been commissioned to write scripts for MIDSOMER MURDERS, DARK KNIGHT and TORCHWOOD. He has toured as a stand-up comedian and his stage play UNDER THE EAGLE was hailed by Time Out London as 'bitingly funny'.
More like this