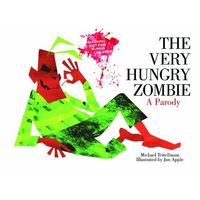 BACK
THE VERY HUNGRY ZOMBIE
In this dead-on parody of a children's classic, a very hungry zombie eats his way through a variety of his favorite foods, including clowns, astronauts, rock stars, fingers, and brains. With vivid, playful art and amusing text, THE VERY HUNGRY ZOMBIE is for picture-book lovers of all ages.
Adults will get its slightly demented humor. Older kids who grew up on classic board books will love the fun of the parody. And because the art is humorous rather than graphically gross, a new generation of little ones will grow quite fond of a creepy zombie whose gluttony earns him a bellyache. Jonathan Apple is an artist and illustrator. He is versed in every method and medium imaginable—from greetings cards to editorial cartoons; from posters to portraiture; from fine art to PhotoShop.

Michael Teitelbaum is the author of more 150 children's books including young adult and middle-grade novels, tie-in novelizations, and picture books as varied as Spider-Man, Superman, Avatar, Teenage Mutant Ninja Turtles, Smallville, X-Men, Batman, Transformers, Garfield, and Kermit the Frog. His books include the sports series Backyard Sports, Weird Sports, Jackie Robinson: Champion for Equality, and The Scary States of America.
More like this