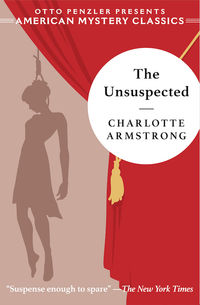 BACK
THE UNSUSPECTED
To catch a murderous theater impresario, a young woman takes a deadly new role...
The note discovered beside Rosaleen Wright's hanged body is full of reasons justifying her suicide - but it lacks her trademark vitality and wit, and, most importantly, her signature. So the note alone is far from enough to convince her best friend Jane that Rosaleen was her own murderer, even if the police quickly accept the possibility as fact. Instead, Jane suspects Rosaleen's boss, New York theater impresario Luther Grandison. To the world at large, he's powerful and charismatic, but Rosaleen's letters to Jane described a duplicitous, greedy man who would no doubt kill to protect his secrets. If Rosaleen stumbled upon one such secret, it could have led to an untimely demise - and Jane risks a similar end when she takes a job with Grandison's company, tangling with one of Broadway's deadliest actors in a desperate play for the truth.

A playwright before she turned to crime fiction, Charlotte Armstrong drew from her experience in the theater for her fourth novel, The Unsuspected. The book inspired the 1947 film of the same name.

Charlotte Armstrong (1905-1969) was an American poet, dramatist, and author of mystery short stories and novels. She was born and raised in the mining region of Michigan's Upper Penin- sula. After two years at the University of Wisconsin, she moved to New York and received a B.A. degree from Barnard in 1925. She had two plays produced on Broadway but neither was successful, so she turned to writing mystery fiction, beginning with Lay On, MacDuff (1942), the first of three detective novels featuring Professor MacDougal Duff. It was with The Unsuspected that she achieved outstanding success and moved to Hollywood while it was being filmed. The 1947 Warner Brothers feature starred Claude Rains, Joan Caulfield, Audrey Totter, and Hurd Hatfield; it was directed by Michael Curtiz.
More like this