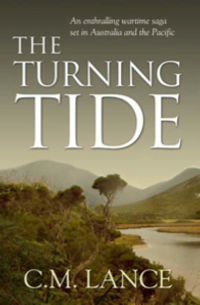 BACK
THE TURNING TIDE
An evocative wartime novel that will delight fans of Peter Watt, Wilbur Smith and Sebastian Faulks.
For the first time in forty years, Mike Whelan visits rugged, beautiful Wilsons Promontory, where he trained as a young commando in 1942. Mike is surprised by how much revisiting the area affects him, especially when he meets a young woman who happens to be the granddaughter of his old commando friend, Johnny. Johnny died in the Pacific War, leaving Mike with the burden of his secret love for Johnny's wife, Helen.

Mike is overwhelmed by emotion when he learns Helen is still alive and lives near Wilsons Promontory. As Mike is drawn back into Helen's life, the past begins to overwhelm him and he realises he must question long-held misconceptions before he can find contentment and peace.

From Broome to Wilsons Promontory via the Pacific, this novel of war and betrayal will keep you enthralled in the lives and adventures of its leading characters.

CM Lance grew up in the town of Speers Point, on Lake Macquarie. After dropping out of an Arts degree in Newcastle she lived in Britain and the Netherlands, then studied science at London University, where she majored in physics. Later, she completed a doctorate in astronomy at Mount Stromlo Observatory, Australian National University. CM Lance is the author of Redbill: From Pearls to Peace, which won the WA Premier's Book Award for Non-Fiction and Alan Villiers: Voyager of the Winds, which won the Mountbatten Maritime Award for Best Literary Contribution.
More like this