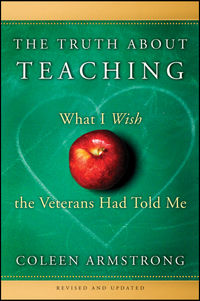 BACK
The Truth About Teaching
What I Wish the Veterans Had Told Me
The Truth About Teaching
Coleen Armstrong's The Truth About Teaching is the perfect gift for every teacher. Filled with over 150 inspirational tips, this book is a wonderful celebration of the joys and challenges of being in a classroom. With her characteristically witty, wise, and caring manner, Armstrong offers realistic words of encouragement in a thoroughly upbeat, often laugh-out-loud funny assessment of teaching that's simultaneously honest about the realities of this noble profession.
This wonderful collection will resonate with teachers who are new to the profession as well as with seasoned veterans who will recognize their own experiences within these pages.
Published in Partnership with Inspiring Teachers. Inspiring Teachers is an organization dedicated to empowering and guiding new and veteran teachers, administrators, and mentors. For over ten years, Inspiring Teachers has helped educators worldwide through a comprehensive website, a collection of books, and staff development offerings.
More like this